by Michelle Sabick
Past President
I will pass my Past-President's baton to Nick Stergiou in August at our annual meeting, so this is my last newsletter column as a member of the ASB Executive Board. I am pleased to have been able to have serve ASB over the past three years, which presented a number of challenges, from a reckoning with #MeToo and #BlackLivesMatter to the unexpected turbulence of dealing with a global pandemic and two virtual conferences. Through it all, ASB has remained true to its mission to broaden the impact of biomechanics research and to expand scientific opportunities to people of all walks of life.
When coming to the end of an important project, it is human nature to honestly take stock of what you have accomplished and what remains to be done. I am proud of what our Society has accomplished during the last three years, and confident that our incoming slate of leaders will continue that positive trajectory. Most of the projects that I have worked on have not been splashy, and many will not even be immediately obvious to the general membership. However, the organization is stronger and will be more effective moving forward due to the combined efforts of many dedicated volunteers who serve on the Executive Board and its committees.
This year, ASB hired a professional management company to support the Society's functions and help organize our conferences. This is part of the effort to professionalize the management of our society so that members of the Executive Board can focus more on strategy and outcomes and less on transactions. That should leave more time to grapple with how best to enhance our diversity efforts, how to better support our early-career members, and how to accommodate new student chapters, expanded mentoring opportunities, and affinity groups. At the annual Business Meeting this year we will also unveil the new logo design, which is part of our effort to provide some consistency to reinforce our identity as an organization without losing the unique parts of ASB that makes it the professional home for many of us.
I would like to thank the members of this year's Nominating Committee, Julia Choi and Erika Nelson-Wong, who helped me put together a strong and diverse set of candidates for the ASB elections. I would also like to thank all of those who were brave enough to run for elected positions. Regardless of who ultimately wins, I know the Society is in amazing hands. I also need to thank the members of the ASB Fellows Selection Committee who identified a great set of new ASB Fellows who will be inducted this year, and the current leaders of the Council of Fellows who are working with me to better define the role and selection of Fellows for the future. Finally, my sincere thanks to Missy Morrow, who has done an amazing job of managing the ASB awards nomination and selection processes. Missy's dedication and organization made my year as Past-President bearable, and I look forward to formalizing the position of Awards Chair on the Executive Board so we can continue to enhance our awards and recognize our talented members. I also need to thank Wendy Murray and Brian Umberger, who preceded me in the presidential line and started many of the important initiatives that I have has the pleasure of supporting during my tenure.
I look forward to seeing you all virtually in August. Please make sure to tune into the Annual Business Meeting to learn more about our new Society identity and to learn more about our new Fellows and this year's award winners.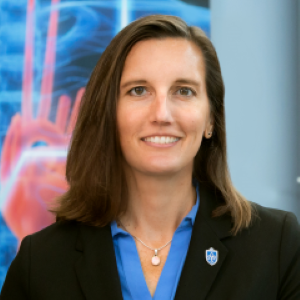 Michelle Sabick
Past President