by Nicholas Stergiou
President
Dear ASB Members,
With the rising temperatures, and the greenness and colorfulness of nature around us, there is a strong sense that we are finally turning the corner with the pandemic. The CDC guidelines are getting friendlier and friendlier as vaccination has provided freedom. Hugs are finally back and social interaction is getting back to normal. Science has provided a miracle with vaccines, tests, and drugs, and we should be so thankful for all of our colleagues who worked so hard in their laboratories to provide us with the necessary means to fight this battle.
However, caution is still necessary. Staying safe and healthy is still our primary concern. This is why ASB 2021 will be a virtual event. We are relying on the tremendous experience we gained last year and the great success of our vASB 2020 to organize this year's meeting. Young-Hui and his team are carrying us through again and I am so grateful that we have them on board. Alena and her team is putting forward a great program which I am certain you will really enjoy.
During this year the Executive Board has been very busy with multiple initiatives. From bringing along Podium to improve our society and conference management, to joining AIBME to enhance our capabilities and influence in terms of policy, and to starting a mentoring network. However, I do not want to steal the thunder from our Executive Board leaders as you will read the excellent progress they have made in their areas in their corresponding pieces. I am just so thankful that I have been blessed to work with such a great group of biomechanists. So, please join me in thanking all these leaders, as well as their very active committees who are doing such tremendous work for our society.
While this past year have challenged us in many different ways, I am proud to report that our scientific home, our American Society of Biomechanics, is stronger than ever and is moving forward to enhance our services and support for our members. Please keep safe and healthy, and I look forward to seeing you all virtually in vASB 2021.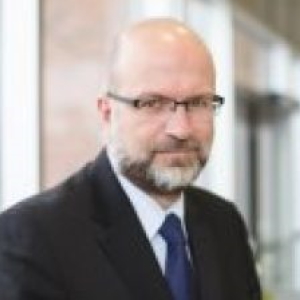 Nicholas Stergiou
President