by Paul DeVita, Lisa MacFadden, and Felipe Carpes
NBD Board of Directors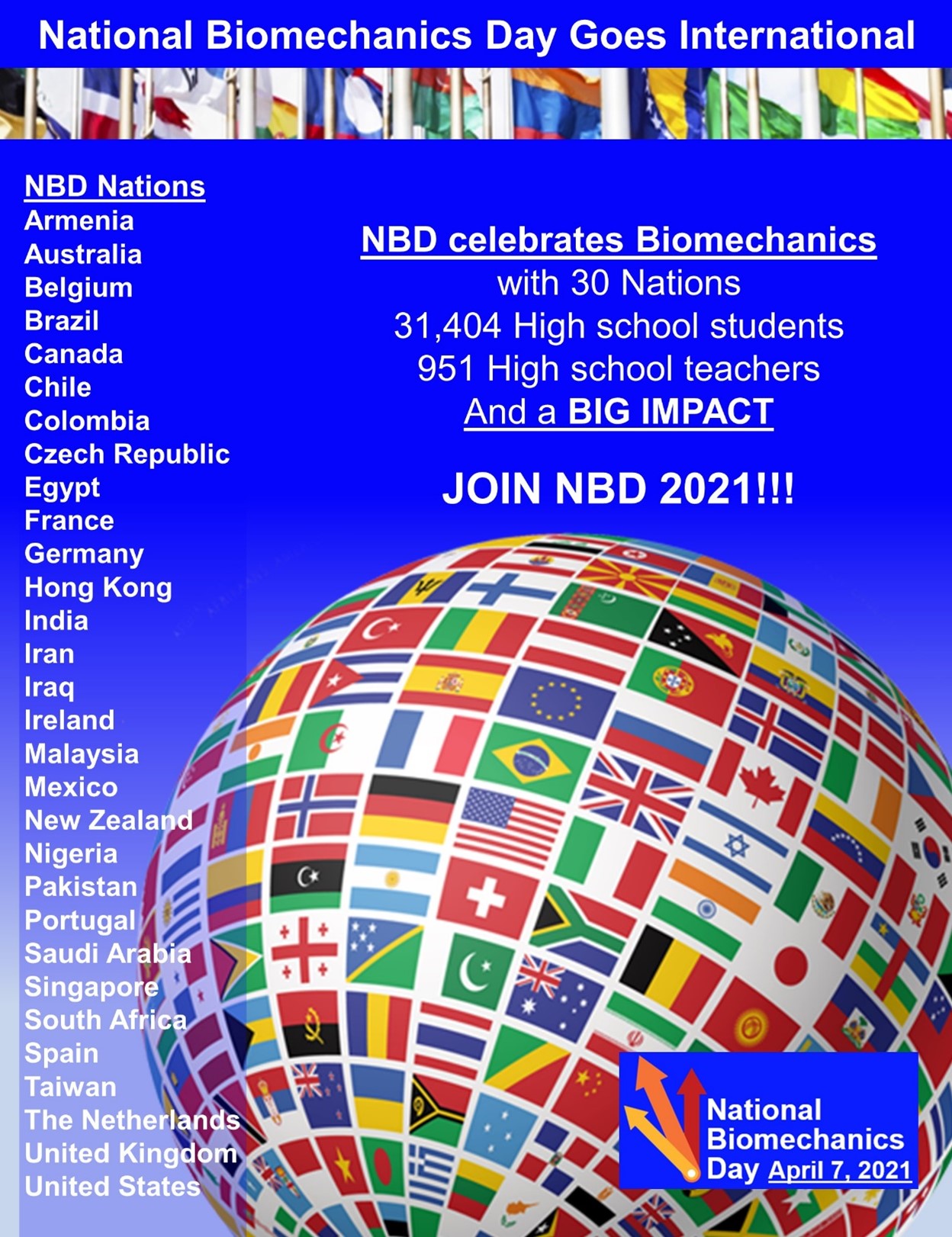 Hello to all our ASB Friends and Colleagues,
As the world awakens, we all emerge a bit differently than we were one and a half years ago. National Biomechanics Day has also changed and now presents itself as both a Biomechanics STEM- and STEAM-based outreach program and also a funding source supporting outreach and growth for Biomechanics. After five successful years, NBD has become part of the Biomechanics firmament through the efforts of so many of you and of our colleagues around the world. NBD Thanks everyone for your energetic support.
Our outreach work, i.e., your outreach work, changed from in-person events to various forms of virtual and online experiences. The only roadmap we had for this departure from our previous efforts was your creativity and desire to continue working with young people and to introduce Biomechanics to these future scientists and practitioners. And we say loudly that your creativity was incredible!! This creativity is on full display on our website listing dozens of groups who created new, online learning centers for Biomechanics. Please scroll down the page and click some of the labs, their videos, and their online lectures and demonstrations. Some of our favorites are the Carnegie Mellon University event that even included cephalopod biomechanics, Auburn University's series of Biomechanics lectures that each included activities for the high school viewers, Virginia Tech's full slate of Biomechanics activities including Tik Toc dancing and gait Biomechanics at home, and the combined effort of UNC-Chapel Hill and NC  information and materials into their NBD 2021 event. We admire so much the effort all groups made to producing fun, informative, and educational virtual experiences for the next generation of Biomechanists.
NBD, through its parent organization, The Biomechanics Initiative, expanded its mission this year with grant programs designed to aid Biomechanists in producing NBD events. We partnered with our own ASB in the Black Biomechanists Outreach Through NBD program, with ISB in the NBD Outreach For Women in Biomechanics, with the Brazilian Society of Biomechanics in the Brazilian Biomechanics Experience, and with The Australian & New Zealand Biomechanics Society and Books of Discovery in the Australian Transportation grant program. Through these programs and with the contributions from these groups, we distributed over $10,000 for creating new NBD events around the world. "Around the world," included Nigeria, Australia, Brazil, New Zealand, and the U.S. It is really through our loyal sponsors that we are able to now support individual Biomechanics people and groups and we think, make a substantial contribution to our chosen science. We concentrated on underserved people this year and we will continue to work with various groups in the coming years. We thank the 31 applicants for submitting proposals and congratulate the 13 grant recipients and we look forward to larger programs and more applications next year.
In this past year of virtual reality, we also hosted our first NBD Sponsors' Technology Forum. Seven of our tech sponsors participated by demonstrating their products and ideas to many biomechanists through 8-minute informative presentations. We plan to hold our second Sponsors' Technology Forum in July. Please watch for announcements.
We have introduced Biomechanics to well over 31,000 high school students since 2016 and we hope to double this number in 2022! Gotta think big, of course. We again thank all NBDers around the world and we look forward working with you on new endeavors next year.